Let's face it, there's a major misconception of what people think of hospice. Many people believe it's a place to go to die. This is far from the truth. Hospice care encompasses more services, provides more activities of daily life, and more clinical care than any other home care service. Don't fall into the trap of mis-categorizing hospice and fail to use the care you paid towards for yourself. Enjoy and understand all the facets of what you will get under the hospice care benefit with the charts included in this post.
The number of visits you get during the hospice benefit exceeds many other home care services, and it's all paid for! Let's visualize how this could look in a given month: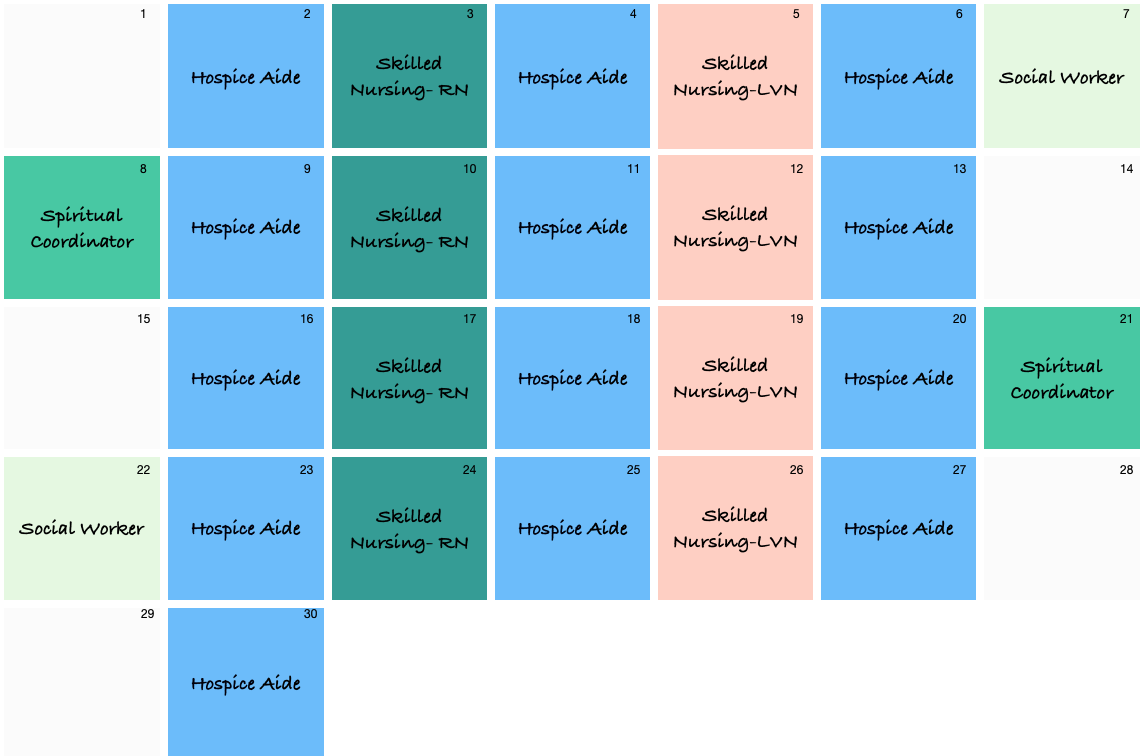 Surprising isn't it? You clearly see hospice aide visits are 3x/week- that is A LOT of mobilizing your loved one to get out of bed to a chair or shower (if tolerated)! Compare this to home health PT visit frequency, and you realize hospice may provide more touch-points and consistent physical activity. Skilled nursing is 2x/week, with half of this time from an RN. Social Workers and Spiritual Coordinators visit 1-2x/month. All these frequencies are optional and easily adjusted by your request. Now that is a lot of hands-on care!
You can also click here to learn what else you get under the hospice benefit, or here to learn more about the hospice team roles.
*For home health, patients will get skilled nursing and/or therapy care (PT,OT,ST) visits. Frequencies are based on the needs of the patient and should decrease the longer home health is provided. A nurse aide is more rare, but may be provided only if skilled nursing is involved and frequencies vary. For hospice, skilled nursing, aides, social workers, and spiritual coordinators are most always provided on a consistent and may be on a more frequent basis.